Samsung Flip 2 screen | 85 in
Product Description
Create the next generation of learning with
an easy-to-use digital whiteboard
Multiple write up to 20 on any background
to improve class engagement

Versatile connectivity options and easy sharing for a seamless learning experience

Power touch function on screen
Uhd
The largest measures 85 inches for impactful learning
Multi-write up to 20 on a larger screen
Provides

Flip2

Easy to use tool for up to
20
person to write and draw simultaneously on a screen

Uhd

كبيرة وواضحة مقاس 85 بوصة

تضمن هذه الميزات البديهية

أن جميع المشاركين يمكنهم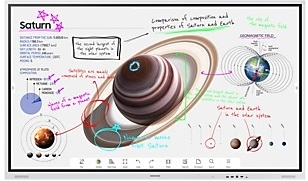 Participate actively and directly

To increase class efficiency and participation
Record
يدعم

Samsung Flip

الآن تصفح الويب ويسمح للمستخدمين بالوصول إلى الإنترنت مباشرة من خلال الشاشة

دون الحاجة إلى جهاز إضافي. بمجرد فتح المتصفح

تظل التعليقات التوضيحية متاحة للمستخدمين للتجول في المتصفح أيضًا للتعاون الفوري
.
تصفح بسيط للويب أثناء التعليق
اكتب على أي خلفية
يتيح
Samsung Flip
For people in the classroom writing to any resource in the background

Once you click the notes layer button

Users can enjoy smooth writing at any time

And anywhere on any content displayed, without affecting

No action behind the original layer
Synchronized screen display
Teachers can connect their personal device to a device

Flip

Using the touch function, control the displayed content in real time
.
Any modifications will also be reversed

The content on the screen is carried to the personal device and vice versa
Specifications
the screen
85
plate type
VA
Precision
2,160 x 3,840
Pixel Pitch (H x V, mm)
0.4875 x 0.4875
Specifications details
the screen
the size
85
plate type
VA
Precision
2,160 x 3,840
Pixel Pitch (H x V, mm)
0.4875 x 0.4875
Brightness (typical)
350 (without glass), 220 (with glass).
Contrast ratio
4000:1 (without glass).
Viewing angle (horizontal / landscape)
178/178
response time
8
color series
72%
Foggy glass
2% (without glass).
Horizontal scan frequency
30~81
Maximum pixel frequency
594
vertical scan frequency
48~75
Runtime support
16/7
Connection
HDMI In port
2
DP In port
1
HDMI version
2.0
DP version
1.2
HDCP version
2.2
USB port
4 (Type A: Front 2, Rear 1, Type C: Front 1)
Audio out from the screen
Stereo mini jack
RS232 In
yes
RJ45 In
yes
WIFI
yes
bluetooth
yes
energy
power source
AC100-240V 50/60Hz
Power consumption (off mode, watts)
-
Power consumption (on mode, watts)
528W(100-240V), 506W(220-240V), OPS(16V/4.5A)
Power Consumption (Sleep Mode, Watt)
0.5
Dimensions
Overall dimensions (WxHxD, mm)
89 x 1151.1 x 1945.8
Package dimensions (W x H x D, mm).
260 x 1318 x 2136
weight
unit weight (kg)
75.2
Package weight (kg)
91.6
operating conditions
temperature
0~40
Humidity
From 10% to 80%, non-condensing
Mechanical specifications
VESA mount
400 x 600
border width (mm)
20.4, 44.7
Frame material
Metal (aluminium).
Optional features
touch
yes
mounting bracket
Yes (Model Name: WMN8200SF).
SoC
OS Version
Tizen 6.5
Flash memory size
32
The environment
degree of energy efficiency
A+
touch
touch technology
IR
Customer reviews of the product